Everyone loves cookies. Seriously, ask around and we bet that finding a cookie-hater will be quite the challenge. While some deserts can be too rich, too decadent, too chocolatey, etc., there are so many different variations of cookies, that there is really something for everyone.
The fact that cookies are so lovable makes them the perfect gift for Valentine's Day, or any holiday, really. We already mentioned the plethora of cookie varieties, so now let's take a look at some creative, fun, and even sexy cookie ideas for this Valentine's Day.
The Fortune Cookie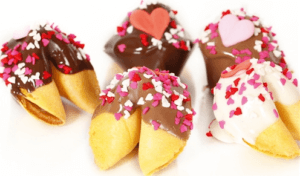 What better way to tell your loved one how great they are or how much they mean to you than by putting your thoughts inside a fortune cookie! Not only do these cookies look beautiful, they are personalized and very thoughtful too. Whether you're asking your crush to be your Valentine or proposing marriage to a long-time love, fortune cookies are great for any type of love note on Valentine's Day!
The Cookie Cake + Creative Cookie Message
Ok, this is just too cute. If you're like us, not only do you love cookies, you also love cookie cake (a gigantic cookie, cut into slices like a pizza – what's not to like?). Show your creativity with a giant cookie decorated like a pizza and a cute message (also made out of cookies) to go along with it. Set this up for your loved one on Valentine's Day and they're sure to be impressed!
The Sexy Cookie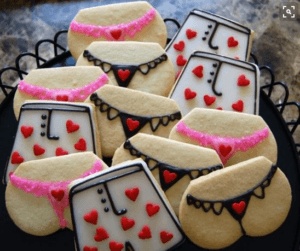 Show your lover what's really on your mind for Valentine's Day with a sexy (yet still cute, fun, and delicious) cookie. Need we say more?
The Cookie On a Stick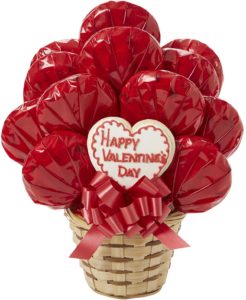 At Cookie Bouquet, cookies on sticks are our jam. So, of course, we had to include these in our V-Day cookie roundup. Flowers are the typical (and somewhat cliché) Valentine's Day gift. Instead of giving your loved one something that's going to die in a few days, give them a gift that looks like a bouquet of beautiful flowers, but that's much more delicious (and won't die or make you sneeze). You can mix and match different cookies in your bouquet, but we love the idea of heart shaped cookies with our favorite V-Day heart candies right on top. These are a great way to add some personalized messaging to your gift as well.
The Anti-Valentine's Day Cookie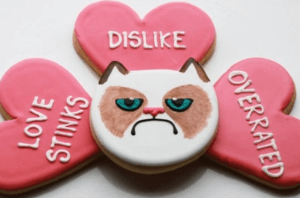 Ok, we get it. Valentine's Day isn't for everyone. Maybe you're not the lovey-dovey type, or maybe you're single and celebrating this fact with your girlfriends on Valentine's Day. Why not take this opportunity to give everyone a good laugh with some anti-Valentine's Day cookies? Just because you're single doesn't mean you can't have fun and have a sense of humor, even on this day that's all about love. TIP – If you can get a grumpy cat cookie in the mix, you are sure to make everyone smile, even the most depressed gal at the party.
If baking cookies just isn't your thing or your loved one lives across the country, check out our Valentine's Day Cookie Bouquets and Boxes!